What would you like to do?
TARGETED MARKETING SERVICES
Market your business using the following networks
:
SUBMIT YOUR REQUIREMENTS BELOW

Frequently Asked Questions

Q: Are all databases DNC checked?
A: Yes, before we broadcast your message to your target audience, the database is checked for DNC listed numbers beforehand. All DNC registered entries are removed.
Q: Where is the data on Home and Business owners from (Amicus)?
A: Home owner data is extracted from caveats – legal documents lodged with the Singapore Land Authority. Business owner data stems from ACRA business registries.
Q: If I have a store/outlet at Takashimaya, will I be able to reach people at Wisma Atria (SingTel)?
A: Yes, with Location Based Advertising, you may target 5 -10 locations within 1 broadcast. If one of the locations you are targeting is Wisma Atria, Singtel users that are within the vicinity (of 5-10 meters radius) will receive the SMS. You can have your broadcast distributed evenly throughout 5 days as well.
SimplyBlast: Broadcast Mass WhatsApp Messages
SimplyBlast allows your business to create touchpoints with consumers over their preferred messaging application, gaining an advantage over competitors.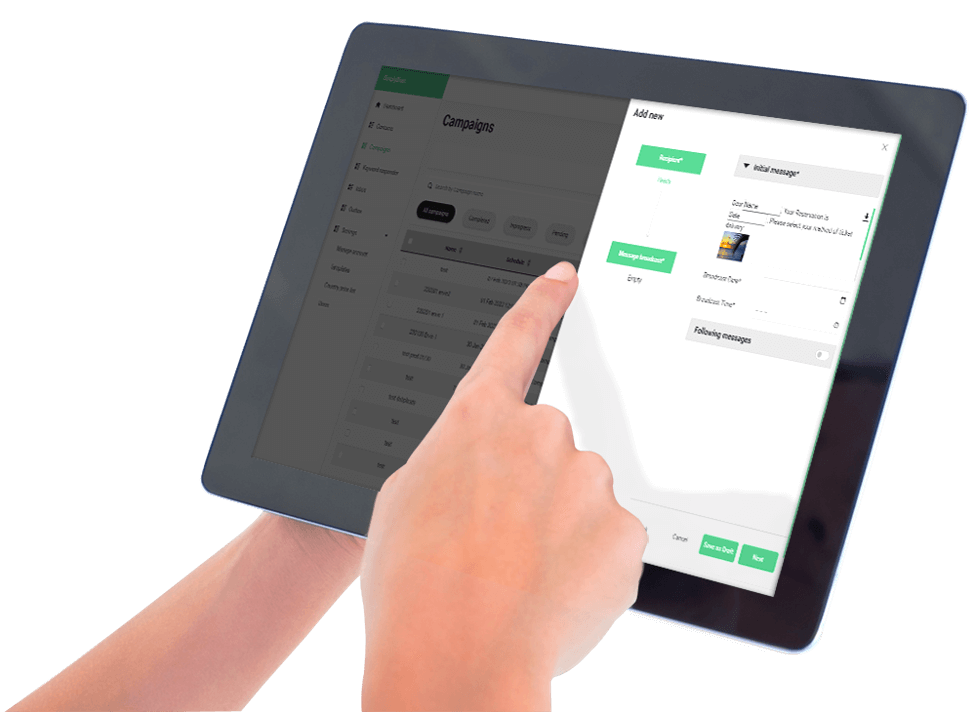 SimplyBlast is a user-friendly WhatsApp platform that allows your business to broadcast messages, images and videos via the everyday consumer's preferred messaging app.
Manage your contacts and deploy personalised messages with an easy-to-use interface that is intelligently designed by an award-winning team of industry veterans in mass communications.
SIMPLYBLAST REGISTRATION FORM

SMSBOX: SMS Marketing & Communications Solution
Previously listed in the GovTech Cloudstore – SmsBox is used also by Government Agencies
IMPORTANT NOTICE: Updated 2nd Apr 2020
In light of COVID-19, we are giving ALL organizations 300 FREE credits to broadcast their COVID-19 alerts. This offer is only for non-existing users of SmsBox. For existing users, kindly contact us to find out if you qualify.

With this cloud-based SMS marketing solution, you can now upload your business contacts, organize your lists and manage your SMS broadcasts with ease.
Track your broadcast delivery status in real-time. Your mobile marketing campaigns can now have measurability. Gain insights into the preferences of your audience by discovering what type of promotions and deals they are the most receptive to.
The easiest way to see if SmsBox adds value to your marketing activities is to give it a try below.
Frequently Asked Questions

Q: Where will all unsubscriptions be reflected on in SmsBox?
A: If an SMS or API account has the Auto-Blacklist feature enabled, the incoming unsub text
(eg. U15) will be reflected in both the Inbox as well as the blacklist.
Q: Does Auto-Blacklist work the same for Shared and Dedicated incoming numbers?
A: Auto-blacklist will work the same for both Shared and Dedicated incoming number
Q: How do I allow for a 'Call Back URL'?
A: Enable the IP on your firewall to allow us to call your 'Call Back URL'.
(More info of our IP in our API document)
Q: What is the password strength requirement for SmsBox?
A: uppercase, 1 lowercase, 1 number, 1 special char, min 8 chars.
Q: Can I upload large lists of contacts?
A: Yes. Large lists of contacts can be uploaded in CSV format. The maximum file size per upload is 10MB – files larger than 10MB will have to be split and uploaded separately to optimize processing speed.
SMS CONTEST HOSTING
Engage existing and new customers with fun and compelling  prizes using SMS lucky draw contests.
Easy to set-up system for your Online and Out-of-home marketing campaigns.
Spend a minimum of $15 to stand a chance to win…
'Like' our page to receive a 10% discount…
Text in your receipt number for $5 next purchase…
Vote for your favourite dish and receive…
Frequently Asked Questions

Q: Are Leads that I get DNC and PDPA cleared?
A: Yes, when you host an (SMS lucky draw contest), people who qualify and take part are willing participants. Your business may contact them till they decide to be DNC registered.