1. DNC Check for Your Business
Adhere to PDPA laws and market to a clean list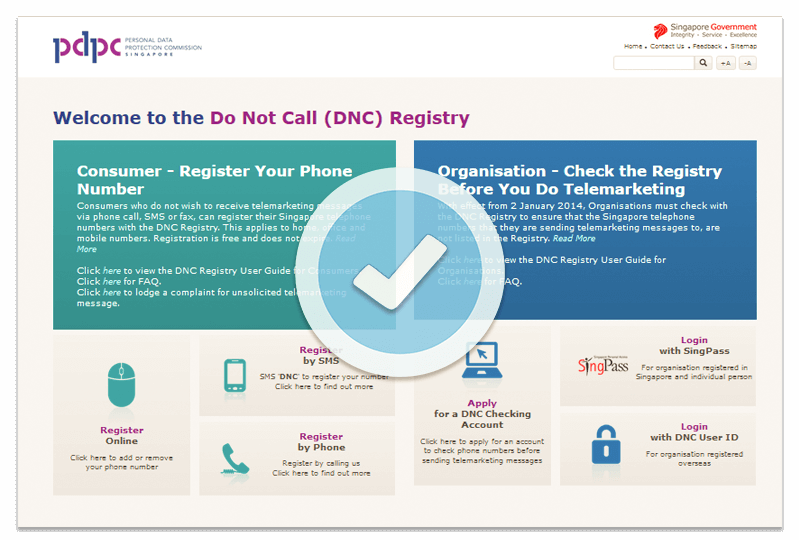 National Do Not Call (DNC) Registry
Launched on 2nd January 2014. DNC indicates that databases collected without consent will have to be verified against the registry. SMS can be sent only if:
The number is not in the DNC registry
Consent to be contacted is granted
Personal Data Protection Act (PDPA)
Launched on 2nd July 2014 – The PDPA provides for the establishment of a national Do Not Call (DNC) Registry. It allows individuals to register their Singapore telephone numbers, to opt out of receiving marketing phone calls, text messages and faxes from organizations.
Remove DNC registered contacts from your list
$0.015 per entry
2. Number Look-up Services
Remove numbers that are not in use

Number Lookup is a value-added service to check the validity of the contact numbers in Singapore, Malaysia or Indonesia
When you submit a list of contact numbers to be checked via Number Lookup, inactive numbers will be indicated as (invalid) in the Number Lookup report. The number data, along with availability and network provider will be indicated in your Number Lookup report
Number data
Availability (Valid/invalid)
Network provider (SingTel/M1/Starhub)
 Unsure if you need Data Cleaning? Ask us.