Starting up a business requires much planning, from budgeting to operational plans. Many startups are starting to identify marketing as one of the most integral parts of the business and they focus on the new trend in advertising – Digital.
When a crisis strikes, the first budget slashed is usually the marketing budget because a lot of it is adjusted for operational expenses, to cover for the upkeep costs. Still, many marketers stick to what they think is the best at the moment, worshipping the new, forgetting the old.
Many marketers pride themselves for being digitally savvy. They churn out digital ads, clamouring for a spot in the overly saturated market space. Since we have moved passed the lockdown and other relatively non-essential services are reopening around us, perhaps marketers can look to other mediums since we're out and about. 
Many articles online speak of the importance of digital marketing. Establishing a digital presence, creating a following online and such. It is important for your brand to be everywhere, however, the reliance in digital strategies and tactics may backfire because of the over-saturation of other similar brands and products like yours'. 
Furthermore, digital advertising messages have a short lifespan. Many marketers jostle for the top spots in search engines and social media, and as quickly as your ads hit the top spots, it gets pushed down by a better-written SEO blogpost or a competitor that spends more. 
SMS/MMS marketing has always been questioned by people outside of the industry. To be honest, it is no different from ads on social media. The biggest difference is that your target audience can opt-out on the marketing messages if they choose to do so (if you included the opt-out function).  
Let us have a little case study – the Ikea catalogue. As members of Ikea, we receive a catalogue every now and then to notify us of their new furniture and room designs. It is a hassle for many people to go through and many copies of the catalogue end up as coasters.  
What if you have intentions for renovations or if you are about to move to a new home? The Ikea catalogues become a godsend. You draw inspirations for new Nordic home design from their furniture line.  
This is known as the Law of Large Numbers which we explored in one of our previous blog posts.  
SMS/MMS marketing works almost the same way. Until you delete the marketing material, it will remain in your inbox and should you really feel the need to delete any of the messages, you will inadvertently screen through the content and the intended message will be unwittingly acknowledged by you.  
Many marketers feel that SMS is the least effective mode of marketing, but do you know that the open rate of SMS messages is at an astounding 82.1%? In this aspect, digital advertising pales SMS in comparison because it is impossible to promise any form of quantifiable results, apart from the click-through rate forecasts. 
What do you think about having 82.1% of the SMS or MMS messages sent out opened and potentially read?
 A guaranteed first-contact interaction with your customers will not happen on other digital platforms. As we know, the quantifying factor in digital marketing is the click-through rate which simply accounts for times your linked has been clicked. This figure does not account for the times your linked is clicked by mistake or clicked repeatedly by an individual. With SMS, however, in order to answer the call to action, the customer must open the message to click on the link. And even when the receiver wants to stop receiving your promotional, they would have to interact with your message by replying "unsub" or whichever way you opt-out option is set. 
The prices of SMS messages are constant, where each SMS costs a certain amount throughout the chart. Digital ad prices fluctuate depending on the contest for a specific keyword. The word "Marketing" may cost $0.10 today, come tomorrow, the cost-per-click goes up to $0.70 or even $1.00 and beyond.  
The best of all when it comes to SMS marketing is that SMS marketing allows for highly accurate targeting through databases, where the message is sent straight to your profiled database where in comparison, search engine advertising only lists their ads because of the search result in relations to the keywords and to interact with the link and consume the content is entirely up to the user. 
Digital ads provide a more immediate result in comparison with SMS marketing messages. As we previously mentioned, the ad is listed by keyword relevancy and since it has an auction type system, where you pay for each keyword or keyphrases, therefore if your investments are not able to outbid a big corporation, your listing will probably fall lower in the page or even out of the first page altogether. 
Television ads are seeing a rise in adoption due to the Covid-19 pandemic, with more people staying at home and consuming televised content. However, counterparts in advertising agencies and marketing shared with us that the conversion rate (based on the increase in a transaction during the airing of the ads) increase slowly until the ad stops. Also, another issue with TVCs is when the ads run for a prolonged period, users often become desensitized. 
You can think of SMS as the in-between of TVCs and digital ads, the digital version of catalogues and brochures. 
And before digital is what it is today, SMS and MMS were the digital. Today, SMS and MMS are the undying digital marketing tactic.
Those obnoxious "Financial assistance" and those book-making SMS messages that you receive frequently turns you off, and because of how the human psychology works, we associate SMS marketing tactics with spams, scams and other illicit activities. 
You will be immediately turned off at the content, and you wish that you will never receive SMS, but notice how effective it is – you have engaged with the content. You now know that the SMS you have received is from a shady sender and that the message is to solicit you to take a loan.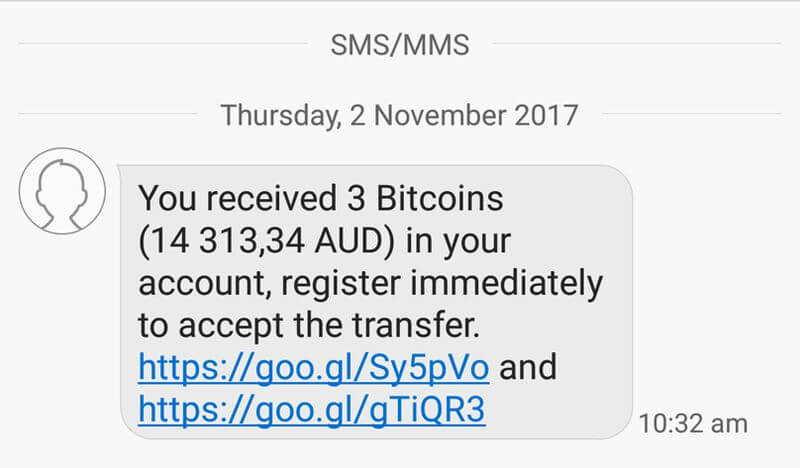 An example of a text message scam
Organizations like this often use burner pre-paid numbers that they have obtained through mules and other victims. The text that they send displays an actual phone number, and they often do not include <ADV> at the beginning of their text, which is compliant to Singapore's regulation on SMS marketing. 
Some providers on SMS marketing solution provide Sender's ID masking, where they allow you to input your brand or company as the sender, allowing your user to instantly know that it is from a legitimate source and nothing illicit.  
This is not suggesting as marketers, you should be focused solely on SMS or MMS as your only marketing tactic. It would be wiser should you incorporate SMS and MMS marketing into the many tactics you have planned to achieve the big picture of your desire.