You are probably reading this from your mobile phone, or it could be right beside you. Have you ever been anywhere out of the home without your "celly"?  The over-saturation of ads in our social media and digital space could be drowning your ads. 
Research done in 2019 shows that mobile phone owners check their phones 52 times a day on average. In total, we check our phones 246,480,000 times collectively!  
Sure, we check our phones that often because of time, waiting for your Grab or Gojek, and even for the release of the next episode of Fire Force on Netflix. It is a common understanding that you will check your phone when you feel a little vibrating feedback from your phone or a notification jingle.  
On Instagram, Facebook, Twitter and even LinkedIn, we see ads from the brands you follow and the ads that are related to the brand that you follow (like Nike and Adidas, Shopee and Lazada).  
Honestly, Telco companies bundle free SMS in your contract bundle, and for what? Who still uses SMS? You loaf the idea of text messaging until the day you chanced upon a data blind spot and you are almost late for a meeting. What happens then? You send an SMS. You receive a reply a minute later, "I'll be late too, no worries". You then realize SMS is still as good as the day you had to press 9 on the keypad 4 times before you get to type Z out. 
There is beginning to have a saturation of messenger service apps on your smartphone. To name a few, WhatsApp, Telegram, Line, WeChat and Kakao Talk. They have large user bases in different pockets of the world, but never is there, or will be, a region that uses exclusively one app. Some apps are even banned in other countries. Marketing on messaging platforms will be easy since everyone uses one, but if only there was a unified messenger service. 
There is and it has been around since the Nokia days. It's called SMS.  
SMS marketing as a tactic is never the first choice because of the restrictions, but the 98% open rate, 90% readership and 45% response rate is too good to pass up. 
The law in Singapore permits SMS outreach only when the target audience authorizes you to do so.  
How do I get 
my customers or prospects
 to authorize me to do so?
You can get them to do so through communication gateway providers such as SmsDome, where we are partnered with listed companies like Singtel and Starhub for the database of Do-not-call (DNC) registry cleared contact database.  
The important thing to note is that you need to allow the receiver of the SMS message to be able to unsubscribe to your messaging. It gives them a sense of agency, where they can decide if they will continue receiving your message.
A key figure to note is that if someone is subscribed to your messaging, the engagement rate is at an astounding 75%.  
What are some of the uses of SMS Marketing?
Apart from OTPs, SMS is gaining traction among other digital marketing platforms like social media and email blasts. It is direct and better targeted, resulting in better readership and eventual conversion.  As a marketing tactic, much like an email blast, you will be able to filter your target audience, to include or exclude based on the basic criteria like age, gender, ownership type (for property agents), occupation and even employment type. 
Apart from email blasts, a lot of marketers use SMS as e-coupons for promotions.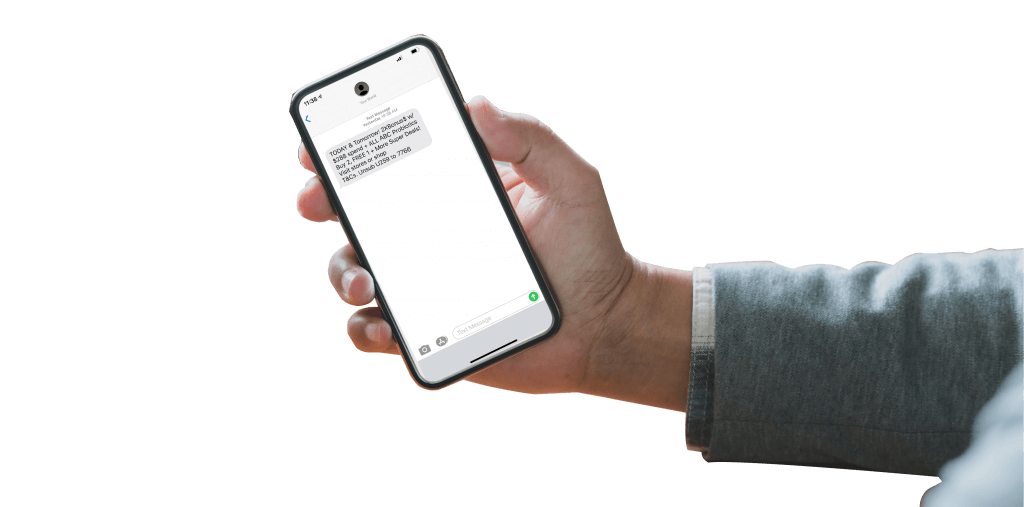 You can and should be using SMS discount coupons for your subscribers, especially during this weird period. Using the SMS coupon minimizes person-to-person contact from the handing-over of vouchers and coupons.  
Are you a FMCG brand that wants to run an amazing contest remotely? You should check out how you can use SMS as a contest system.
Apart from this, SMS coupons save you cost from postage and print. The flexibility of customizable SMS services and sender ID allows you to get your brand and message across effectively.  
Why SMS marketing? 
1.) Response 
In terms of Marketing, SMS has the highest read and response rate, as previously mentioned. The reason for that is because of the fewer text messages they receive than emails and other social media updates. It is also the most direct and immediate channel.  
2.) Tracking  
Including a call-to-action in your text messages allows you to track on how many users have read and interacted with your message and how many others ignored your messages. It builds an understanding of your end-user. 
3.) Supplement 
It is a great supplement to your other marketing tactics. A reminder text to inquire if your users had read your email will boost your email read-through rate, and through those other marketing platforms, you will be able to continue growing your SMS mailing list. 
If you entrust your SMS marketing to the right hands, with the right brief, your marketing efforts will reap a lot more than is sow. Hit us up with an email or through our inquiry form to speak with our friendly and specialized representatives. At SmsDome, we pride ourselves to be at the forefront as a communication gateway provider, helping thousands to reach millions.